Telecommunication providers frequently have to change protocols and guidelines with their carriers. With SMS marketing, it is no different.
The SMS marketing world is changing how texts are delivered. 
Emotive works directly with CPaaS experts and TCPA lawyers. Compliance and deliverability are the absolute highest priority for Emotive.
We want to ensure brands – whether Emotive clients or not – are in the best position for the following three areas: 
Fully Compliant

Ensure Deliverability of Text Messages Being Sent

Maximize Return On Advertising Spend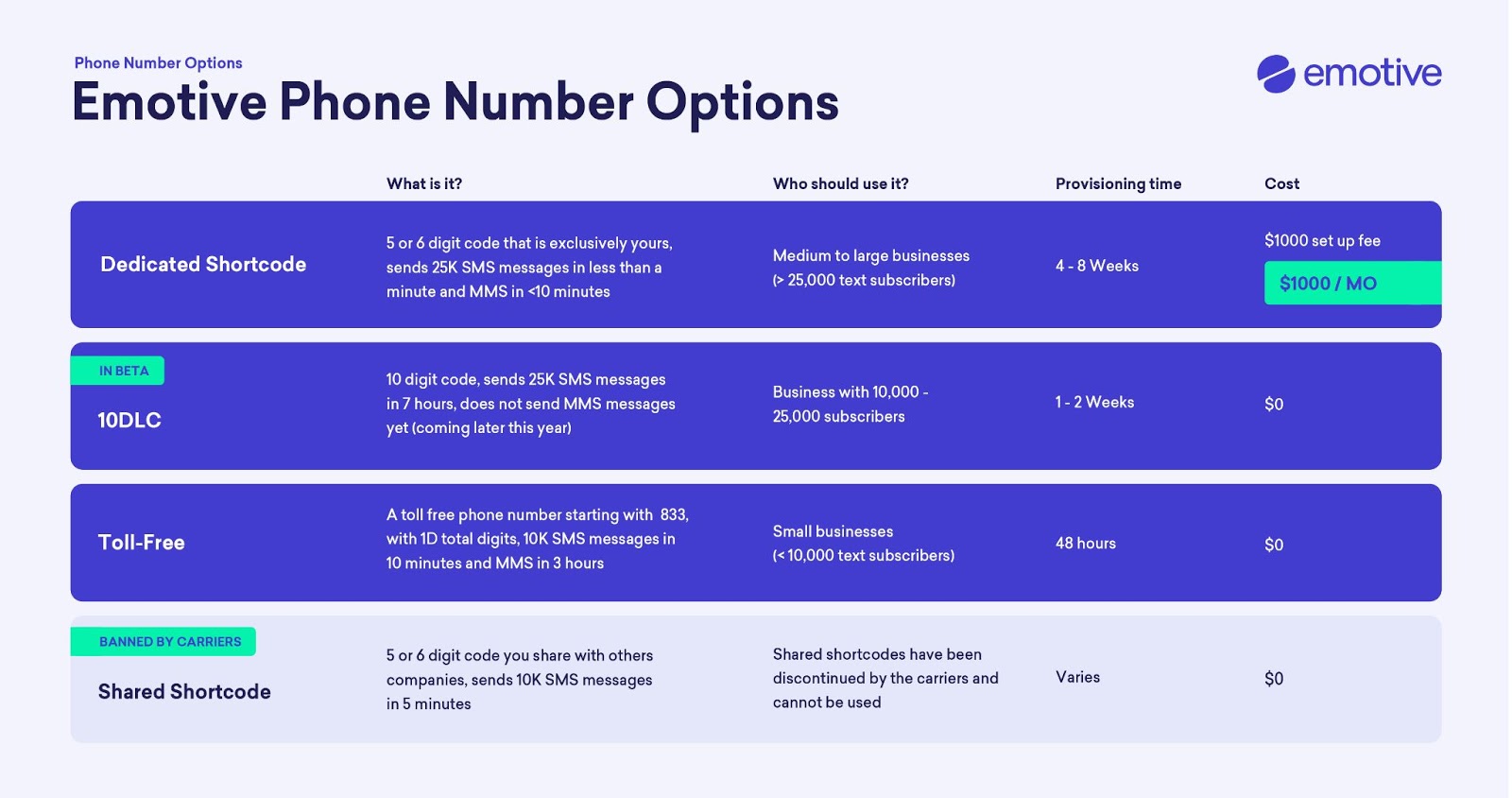 What Changes are Taking Place?
Shared short codes are no longer valid.
All SMS platforms loved utilizing shared short codes for three reasons. Shared short codes have historically provided the highest level of throughput with over a hundred messages per second, had the best deliverability rate with the lowest cost for brands. 
Telecommunications Carriers are beginning to phase out shared short codes with a requirement for all SMS platforms to submit migration plans by March 1, 2021. There are two reasons behind this is:
Carriers want to monitor for terms of use violations (i.e. messaging without explicit opt-in protocols)

There has been an increase in non-compliant SMS providers in the market. This puts brands at risk of a significant per-message fine.
Text messages sent from a business that is informational or promotional are automatically rendered "A2P" by the carriers. Therefore, the reasoning above applies to your eCommerce brand.
With shared short codes phasing out, how will eCommerce brands send texts to their customers who prefer timely and personalized messages from their favorite brand?
The New Thing is Different Number Formats
With the phase out of shared short codes, there are several number infrastructure solutions for brands to be aware of. Emotive has noted which numbers are and are not sanctioned by the carriers for A2P traffic. Again, as a business sending marketing messages, brands are automatically defined as A2P.
Dedicated Short Code (SANCTIONED for A2P) – Brands can utilize a dedicated short code with a $500 per month fee. This looks, acts, and behaves in the same manner like a shared short code, except no other brand will co-occupy said short code.
Toll-Free and High Throughput Toll-Free (SANCTIONED for A2P) -  The next best alternative to a dedicated short code are toll-free numbers because they maintain high deliverability rates. Throughput can be extended to match short codes, but that comes at a price. The only real difference between high-throughput toll-free numbers and short codes is the number format. 
10 Digit Long Code

10DLC, or 10-digit long code, is a channel created by mobile carriers for business-to-consumer (A2P) that sends text messages over local landline phone numbers. There's a good chance you've already been using one of these numbers for business texting, but until recently, they were only intended for person-to-person (P2P). SMS traffic between family and friends has grown increasingly popular over the past few years. American carriers want to make sure it stays that way. This is a channel customers trust, to be  free of spam and other unsolicited communications.  Carriers have together adopted a set of standards and registration processes for 10DLC numbers to better understand who is using 10DLC for A2P and what they're sending across the network. 
Recap: SMS Phone Number Options
Although SMS phone number options are currently changing with short codes being phased out, your eCommerce brand needs to be prepared for the change. Emotive can help you with this change to ensure that your messages are fully compliant, have high deliverability rates, and maximize your return on advertising spend. Book a demo with us today.