Research shows that maintaining current customers costs five times less than winning new ones. That's why more brands are using subscriptions - they lock in those loyal shoppers and build LTV for your business. What's more, subscriptions hedge against the rising costs of customer acquisition and boost sales revenue. What's not to love?
SMS Marketing: The Key to More Subscriptions
But smart marketers know that it's not enough to simply offer subscriptions. Successful brands also promote their subscription program to their customers, and engage subscription customers to keep them locked in.
The most successful subscription brands are using two-way conversational SMS marketing to attract and keep those valuable subscribers. Because it's so engaging (with 99% open rates, and 10%+ click through rates), and because it reaches buyers where they spend most of their time (hint: on their phones), SMS marketing is one of the most effective ways to grow and maintain lucrative, long term customers. 
Introducing the Emotive + Recharge Integration
That's why Emotive's new integration with Recharge for Shopify brands is a subscription growth game-changer. By combining the power of segmentation, subscription event-based triggers, as well as the ease of templates, you're able to more effectively engage potential subscribers. Ultra-targeted and personalized two-way SMS marketing by Emotive encourages new subscribers to join, and keeps current subscribers engaged and loyal. In other words: GROWTH!

Let's take a closer look at what Emotive + Recharge can do for you:
Increase Subscriptions 
The new Emotive + Recharge integration is designed to be a subscription-boosting machine. Segment out non-subscription customers and invite them to sign up via SMS - one of the most powerful comms channels currently available. Compared to emails, mailers, and other static tools, dynamic SMS marketing boasts significantly higher open and response rates, which then drives subscription opt-ins.

Aren't sure how to craft that subscription-winning text? Emotive's templates make it easy to customize and send.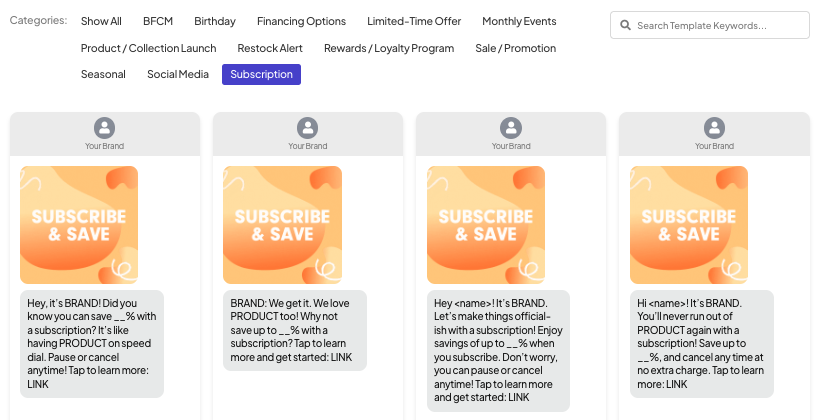 Retain Lucrative Subscription Customers
Emotive's automated two-way Experiences are a smart marketer's secret weapon. They allow you to create full lifecycle campaigns that are personalized and built for subscription growth.

Want to see it in action? Just look at the screenshot below, which shows a fully automated - yet still personable, timely, and relevant - exchange with a customer. That's the power of Emotive.  

Our intuitive platform lets you run multiple campaigns, including:
Subscription activation campaigns 

Order management campaigns

Win back campaigns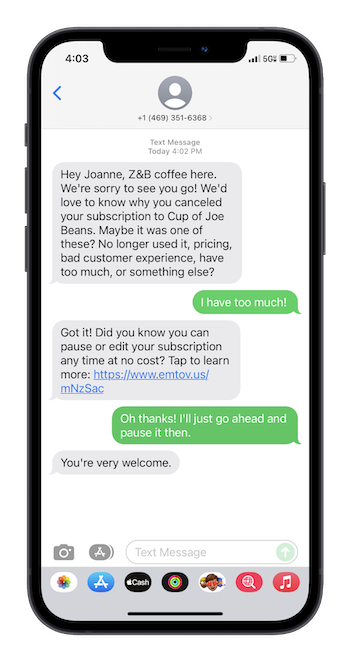 Personalize Your Customers' Experience
With Emotive + Integration you can easily create custom segments based on a range of subscription-related factors. Want to customize your SMS marketing for current subscribers, subscribers to a specific product, subscribers who have been with your brand for a specific amount of time? You've got it. 
You can also automatically insert dynamic variables into your campaigns, such as the subscription product name, the upcoming charge date, and a subscription management link (so customers can skip, pause, or cancel.)
Integrate Emotive + Recharge Today
When you're ready to combine the power of Emotive + Recharge to supercharge subscription growth, it couldn't be easier. Just add your Recharge API key to Emotive and you're set!
Next, create a new Experience in Emotive and select a Recharge template. Remember, Experiences are key to supercharging subscription growth. They create powerful and engaging two-way conversations that will keep your customers coming back for more.  Customize the copy or images in an Experience to match your brand.
Feeling extra creative? Ditch the templates and create a new Experience from scratch with our Recharge event based triggers.
You'll find more info on the new Emotive + Recharge integration in our help center article. 
Ready to supercharge your subscription program with the power of SMS marketing? Get started quickly with Emotive's free 30 day trial, or book a demo to learn about our Recharge integration and more smart marketing tools!