You know the feeling all too well: the disappointment of seeing customers fill up their carts and then ... change their minds and leave your ecommerce store. 
The abandoned cart problem is unfortunately all too common. Cart abandonment is one of the biggest challenges for online retailers. Research shows that between 70 and 80 percent of all shopping carts are abandoned.
Whether you just want to reduce your abandoned cart rate or you're more than ready to recover lost sales, you can fix your shopping cart abandonment problem. In fact, here's some motivation: half of cart abandoners who are encouraged to recover their abandoned shopping carts will go on to complete a purchase. In addition, just 19 percent of the top 1,000 ecommerce businesses put any effort into abandoned cart recovery. So if you pay attention to how you recover lost customers and encourage customers to return their shopping cart, you'll give your online store a competitive advantage.
Why you should send cart abandonment emails
One of the most tried and tested methods for reducing shopping cart abandonment is an abandoned cart email campaign. Why is sending abandoned cart emails such a popular tactic? Because it can increase purchase completion. Abandoned cart emails are an effective strategy to help you reunite potential customers with their abandoned items, recover lost revenue, create loyal customers, and enhance your brand.
A good abandoned cart email strategy won't just entice customers back to the checkout page at your online store; it will help you recover sales that you otherwise would have lost. There are tons of abandoned cart email templates and abandoned cart email examples to choose from, and most adhere to a similar set of tactics:
Personalization: use personalized emails that mention their name and items from the customer's cart
Incentives: offer a coupon code, discount code, or free shipping
Urgency: Motivate customers to complete their purchase with expiring offers
Timeliness: send cart abandoners a follow-up email within a few hours
Social proof: share customer testimonials from your most loyal customers
Strong subject line: ensure your abandoned cart recovery emails get opened
Though emails are effective, a barrage of abandoned cart emails will backfire. Send too many and you can get deposited into the eternal abyss known as the spam folder. Experts suggest your abandoned cart email sequence should include a total of three emails to the customer. The first one goes out within a few hours of the abandonment; the second one should go out 24 hours after the trigger event; and the final email should be sent three days later.  
But keep in mind that email marketing alone isn't the most effective way to recover abandoned carts. Complement your email strategy with a text messaging campaign and you can enhance your conversion rates even more. Emotive customers tell us that their text message campaigns targeting abandoned carts yield a higher return on investment than they ever expected.
Why abandoned carts matter
Ecommerce brands lose an estimated $18 billion in sales from cart abandonment every year. Although it's not a problem you can completely eradicate, you can at least soften the blow. A follow-up message to any customer who's abandoned their cart is the first step towards minimizing the impact of abandoned carts and helping you recover lost sales. Sending cart abandonment emails can create numerous benefits for ecommerce stores:
Improved customer loyalty. Abandoned cart emails can help turn potential customers into loyal customers by showing them you care about their patronage and reinforcing your brand

Improved customer experience. Abandoned cart emails can help you understand what's causing your abandoned cart issues by revealing customer expectations and showing you where you can ease the friction in your checkout flow.

Improved sales. Abandoned cart emails typically have a higher open rate than traditional marketing emails, which in turn can yield a higher click-through rate and increased sales.
Although sending abandoned cart emails to your customers may seem like a lot of work or a waste of time, it can have a massive impact on your bottom line. So don't ignore your abandoned cart problem: you never know who might change their mind and complete the transaction.
14 Abandoned Cart Email Examples
Most email marketing software can empower you to send automated cart recovery emails. If you don't have an abandoned cart email template and need motivation, following are some examples of compelling subject lines, crisp copy, and inspiring incentives to help you get attention in your customers' inbox and recover abandoned carts
1. J. Crew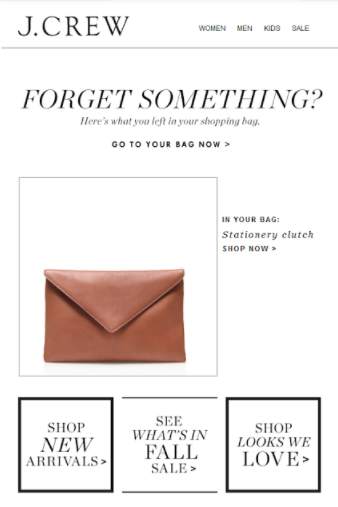 J.Crews opts for a classy approach when trying to retain a sale. The messaging is short and sweet, reminding the customer about their abandoned cart as well as other product themes they may have missed, like new arrivals and what's on sale.
2. Pacsun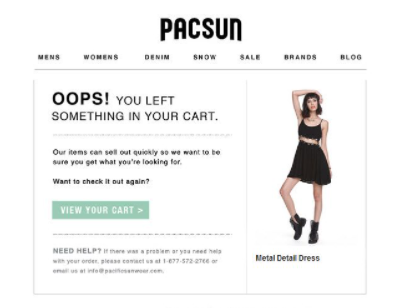 Pacsun goes for a bold approach with its abandoned cart emails by assuming that the customer merely "forgot" they had items in their cart. By implying that the customer still desires the items and reminding them about what they left behind, the emails promote a sense of urgency.
3. Thrive Market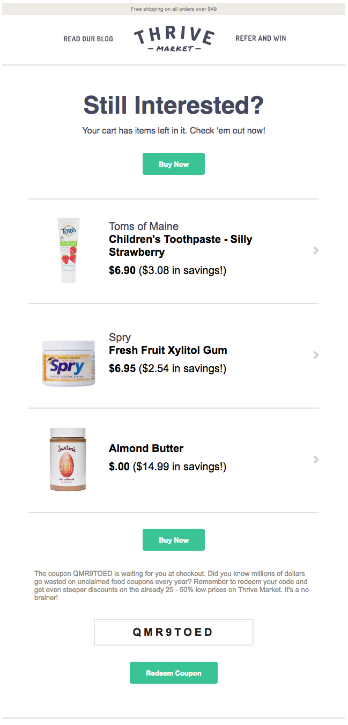 Thrive goes for the savings approach. Telling customers how much they save when purchasing an item right away can be a great way to retain them. Thrive uses the actual items left behind in the customer's abandoned cart to inspire them to return.
4. 23andMe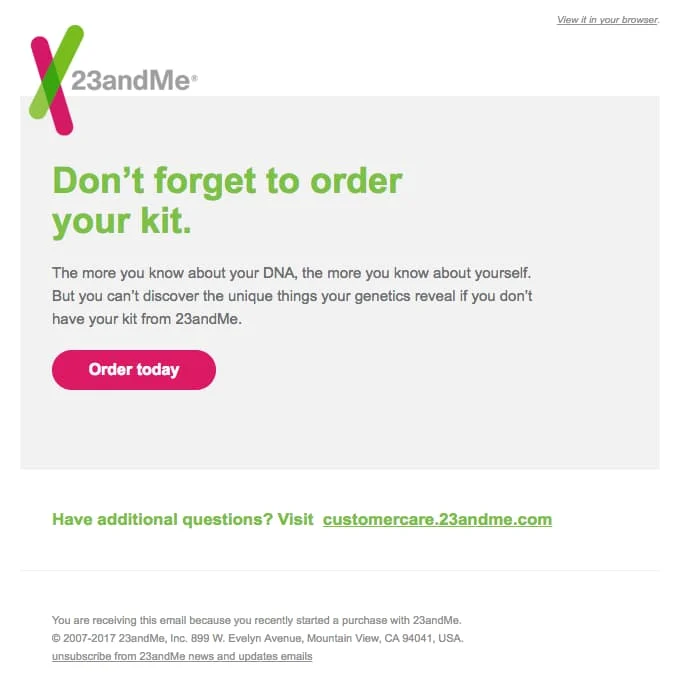 23andMe has taken a straightforward approach. They avoid noise in their emails by getting right to the point with a direct pitch. The copy speaks to the "why" behind the customer's initial interest in urging them to complete their order.
5. Madewell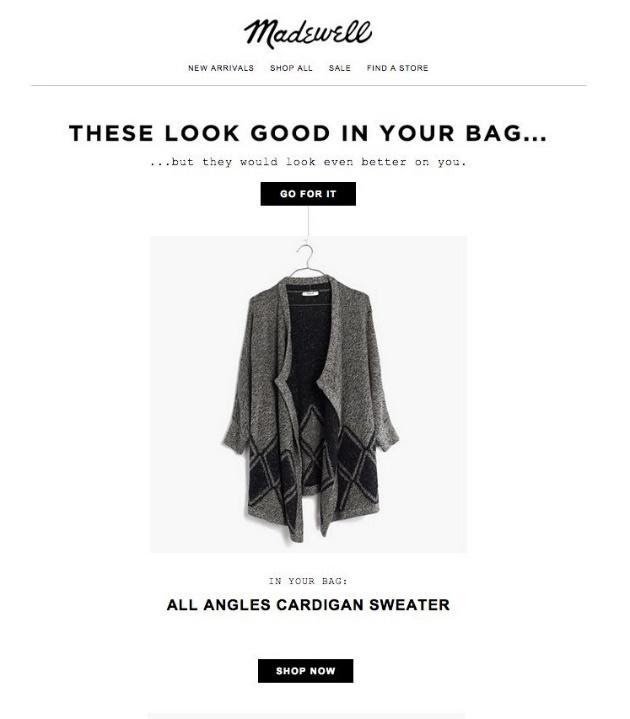 Madewell's abandoned cart emails flatter their customers with a clever pickup line. They also display an image of the item customers had picked out to remind them of their good taste.
6. Puma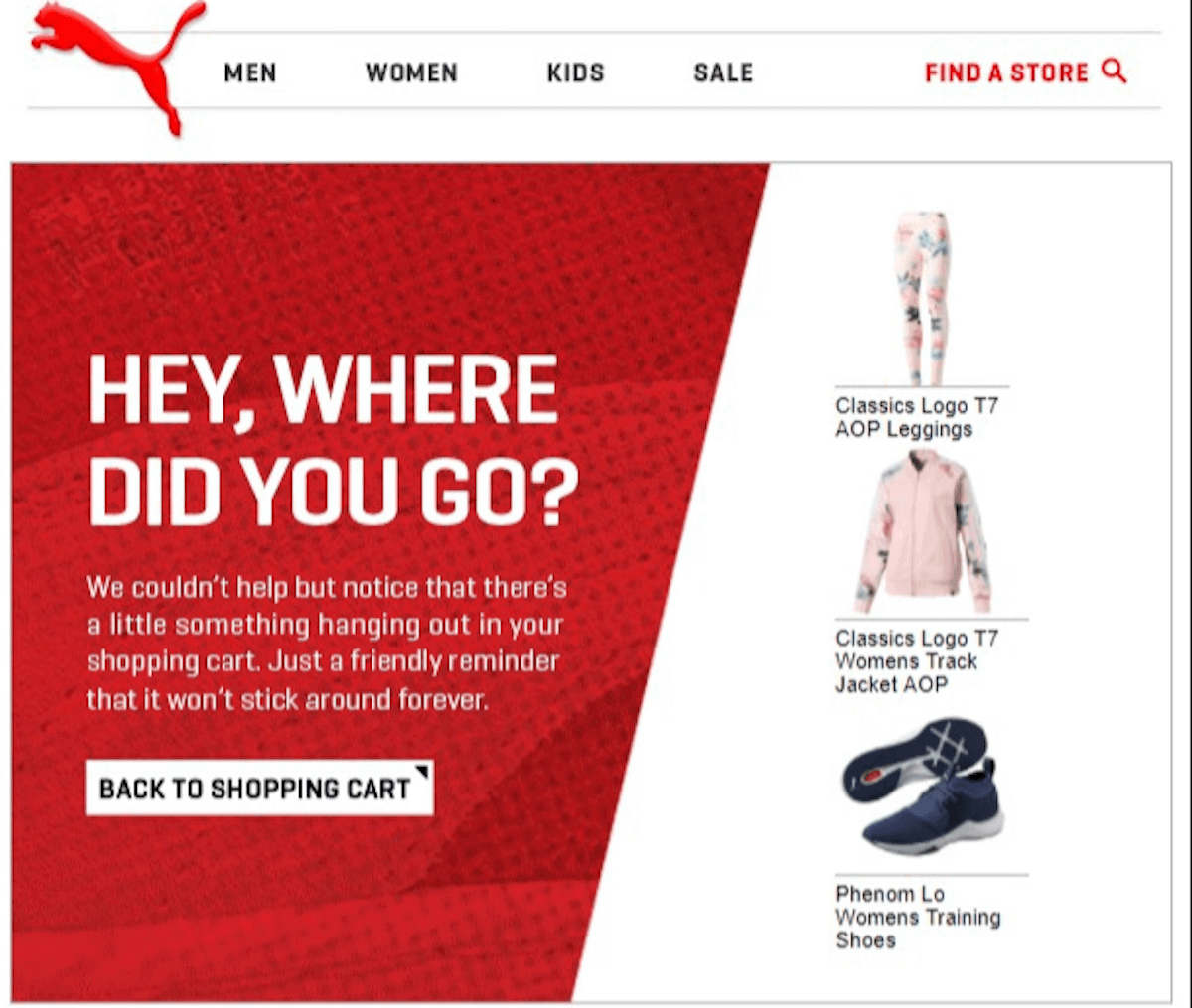 True to its brand, Puma brings urgency and streamlined design to its abandoned cart emails. The "friendly reminder" creates a sense of urgency for customers to return to the store before and complete their purchase before someone else grabs these desirable items.
7. Google Store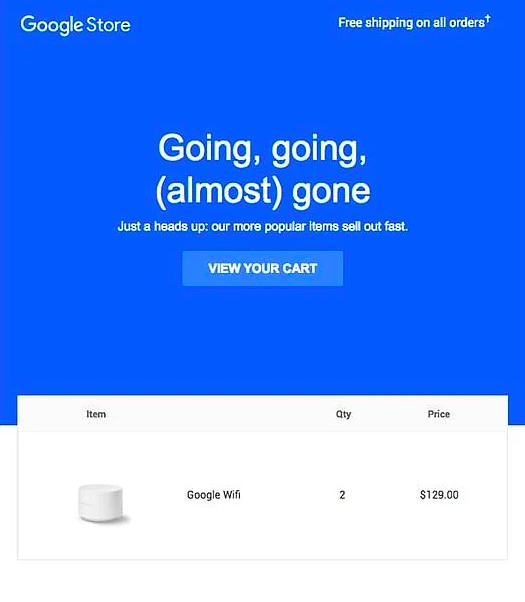 Google's approach to abandoned cart emails, like all of its other copywriting, is direct and spare. With its strong play on words, minimalistic design, and urgency, Google Store emails convey both its brand and the imperative to complete that purchase.
8. Bonobos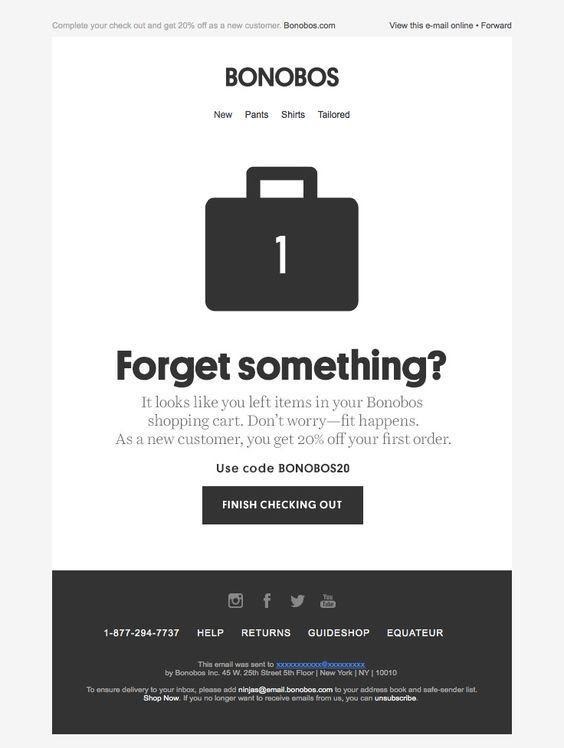 Nothing appeals to a customer more than a discount. That's why Bonobos' abandoned cart emails offer customers 20 percent off their first purchase. This and a clear-cut message can motivate shoppers to convert into customers.
9. Nordstrom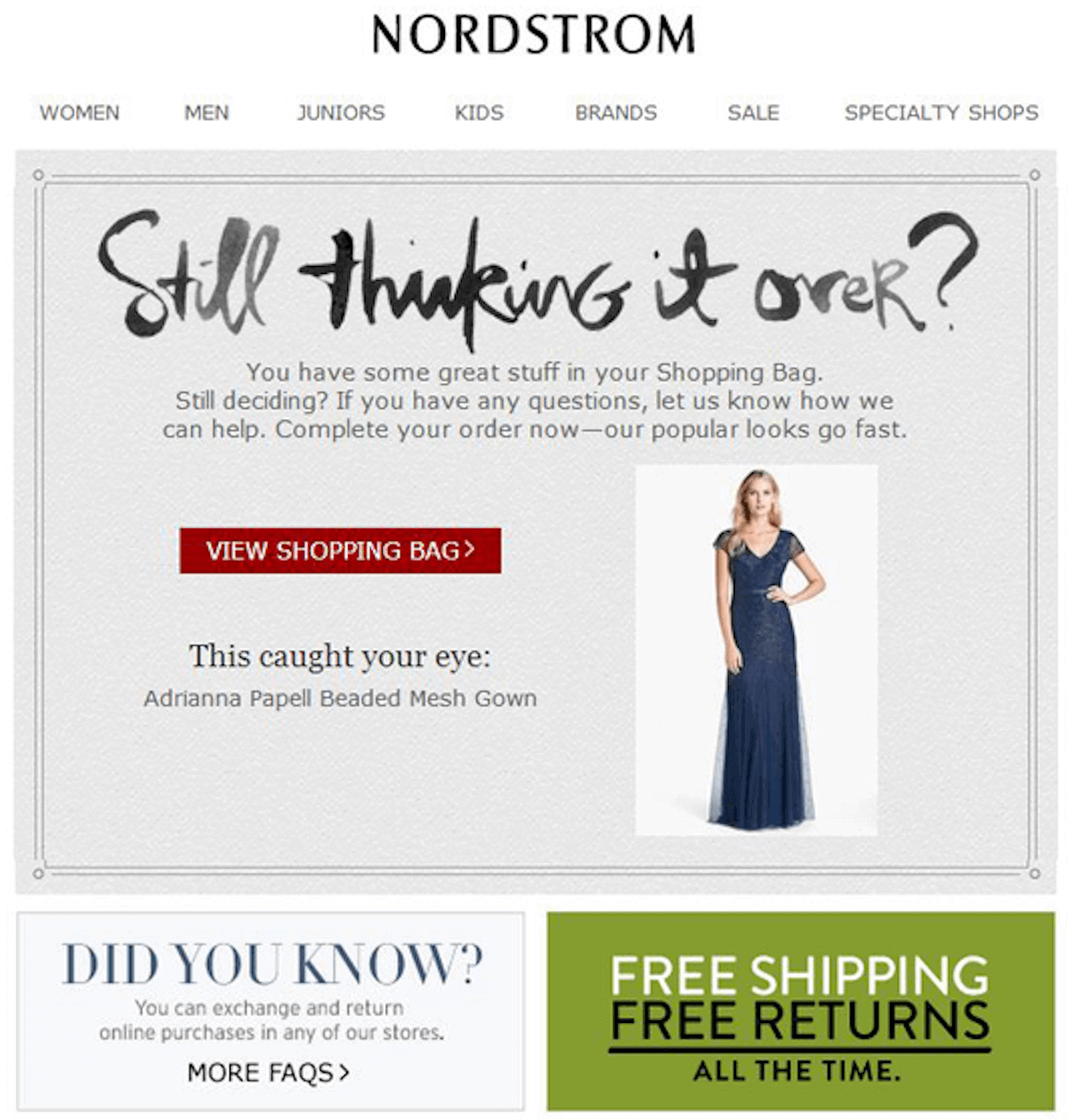 Nordstorm recognizes that sometimes customers need to think it over before making a purchase, but they won't let you forget that you've got items in an abandoned cart. To add a sense of urgency they imply that the desired item might run out of stock, and remind customers that they always offer free shipping and returns — key incentives when trying to retain customers.
10. Ray-Ban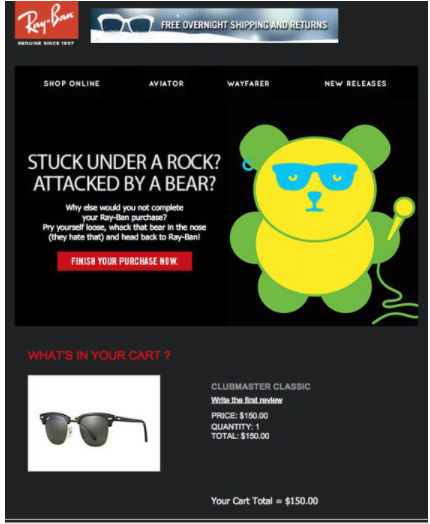 Despite being a brand that exudes class and style, Ray-Ban can have a sense of humor. This abandoned cart email example shows how appealing to customers with a tone that feels familiar and friendly can motivate them to come back to you.
11. Asos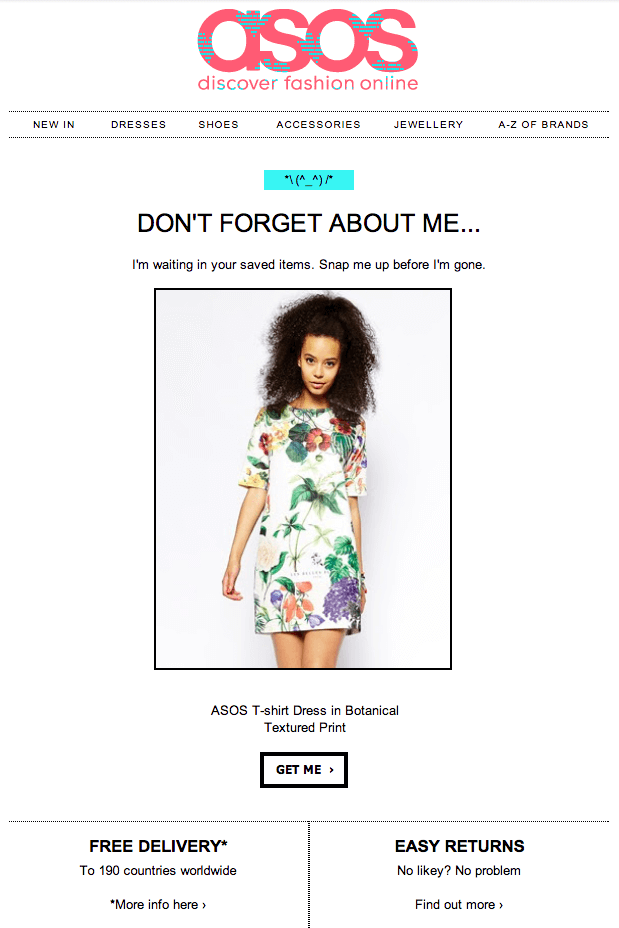 Asos takes a personal approach with this abandoned cart email example. It shows a modeled item from the customer's cart, accompanied by personalized copy implying that the item itself feels forgotten. A CTA with first-person appeal rounds out this on-brand example.
12. Dollar Shave Club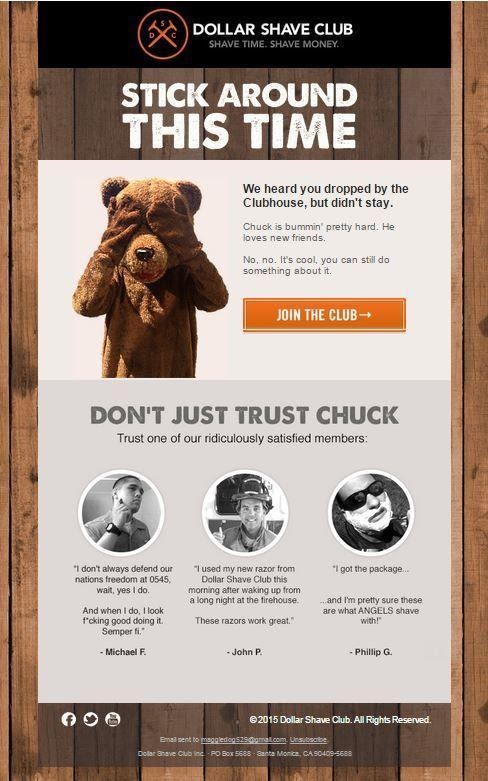 The Dollar Shave Club recruits customer loyalty and social proof to show that customers who do purchase their products are happy with them. Glowing testimonials reflecting your target audience are an effective way to encourage visitors to return to their online shopping cart and become satisfied customers themselves.
13. Hayneedle
Hayneedle is another brand that offers customers some monetary incentive. Hayneedle believes that losing 10 percent of the sale is better than losing 100 percent. That's why a discount code is an integral part of its abandoned cart email strategy.
14. Away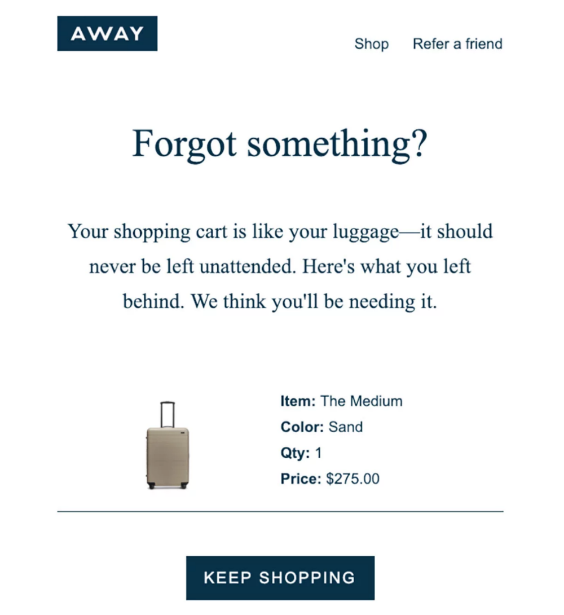 Away combines minimalism and a clear message to bring customers back to their carts and complete their orders. It displays an image of the item the customer had selected accompanied by some on-brand copy relating to travel, likely the incentive that brought the visitor to Away's site in the first place.
The path to customer loyalty starts with an abandoned cart
If your abandoned cart workflow doesn't yet include abandoned cart emails, it's time to get started. Creating the right kind of email and sending it to the customer at the right time can help you recoup lost sales and build customer loyalty.
But cart abandonment emails are just a starting point. As we see skyrocketing numbers of people shopping and buying directly from their phones, you need to ensure you're reaching customers not just on their phones, but in the medium with the highest and fastest open rate: text messaging.
You can use all the tactics described above — personalization, discount incentives, urgency, timeliness social proof, and strong copy — in a text message, and see immediate improvements in your traffic, cart conversion rate, and sales. Learn more about 5 important strategies for decreasing shopping cart abandonment rates for your online store.
Check out Emotive to see how we can help you get going with an SMS cart abandonment campaign today.