What do you call a sad cup of coffee? Depresso.
Have you heard about those new corduroy pillows? They're making headlines.
Which days are the strongest? Saturday and Sunday. The rest are weekdays.
Okay, you know how it is: we can't talk about Father's Day without a few dad jokes! Father's Day this year happens on June 19, and most of us — 75%, according to surveys — are planning to celebrate. The US Census tells us that 6 of every 10 men in the US are fathers (biological, step, or adoptive), and 1 out of every 4 are grandfathers. That's a lotta dads! 
Father's Day By the Numbers
In case you were thinking that Father's Day isn't really a big deal, think again. It's the fourth most popular holiday for sending cards, according to Hallmark. And the National Retail Federation reports that last year, Americans spent a whopping $20 billion on dads. Let's take a look at a few more interesting facts about Father's Day. 
Consumers will spend an average of $171 on gifts

Clothing (aka ties?) is still the most popular gift, but gift cards, electronics, and "special outing" or "experience" gifts are popular, too

At least 30% of shoppers report that they look to retailers for gift inspiration

Forty percent plan to shop online for Father's Day gifts 

Shoppers say they're searching for a gift that's unique or different, or one that "creates a special memory"
Father's Day SMS Strategies
No matter what your e-commerce brand sells — whether it's apparel, health and wellness, fitness, electronics, food and beverage, or something else — SMS can help you crush it this Father's Day. Get your customers' attention and help them shop for the father figures in their lives by suggesting your products via text message. 
Keep reading to learn how you can grow your SMS subscriber list, use a Father's Day shopping quiz to increase conversions, schedule campaigns and segments to optimize for success, set up inclusive Father's Day campaigns, and save time with our one-click templates and downloadable GIFs.  
Ahead of Father's Day, Grow Your SMS Subscriber List
If you want to get the most traction from your Father's Day marketing efforts it helps to have a bigger list. Here are some easy tactics to build your SMS subscriber base ahead of the holiday, so that new subscribers have time to shop with you.
Invite Email Subscribers
One of the easiest ways to grow your list of SMS subscribers is to remind the folks already on your email list to sign up for texts. After all, 60% of all email campaigns are opened on a mobile device and 61% of searches are happening on a phone — not to mention that 75% of people surveyed say they'd be happy to receive an offer via SMS.
To invite email subscribers to sign up for SMS, build a segment of folks who have engaged with sales offers in the past. Then entice them with exclusive offers targeted only to SMS subscribers. Make it easy for them to sign up with a simple link or pop-up.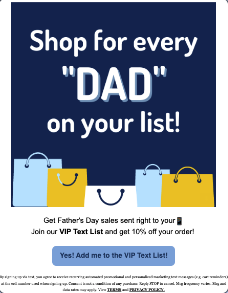 Invite Instagram Followers
Help your followers figure out what to get for Dad this year by posting at least 1-2X per week on Instagram. More than 72% of users report making a purchasing decision based on something they saw on Instagram, and 90% of users follow at least one brand. 
Post an IG story encouraging your followers to join your SMS list and save on a gift for Dad. Emotive users, create a sign-up web link and welcome experience that ask subscribers a few questions and help them complete their purchase.
Serve a Father's Day Pop-up to New Website Visitors
High-intent shoppers are the best ones to nurture! Offer a Father's Day Gift Guide to encourage these shoppers to opt in. By self-selecting onto your subscriber list, these shoppers are telling you they're super interested in Father's Day sales. Pop-ups targeted to Father's Day are great for a number of reasons: 
You can capture phone numbers without offering a promotional discount right away

These high-intent subscribers get early access to your Father's Day Gift Guide and are more likely to shop soon

Later, you can easily retarget the shoppers who opted in but didn't order when you announce your sale
Be Inclusive
Just like with Mother's Day, Father's Day can be a sensitive time for many people. When you give consumers on your list the ability to opt-out of Father's Day texts, you're showing them that you appreciate their feelings and want to accommodate them. 
To exclude those who prefer not to receive texts, set up a flow. If you're an Emotive customer, simply choose our "Skip Father's Day Messaging" Experience. Edit, publish, activate, and that's it. To refine your broadcasts and send them to only the most relevant audiences, use segments with an exclusion rule. (See our broadcast guide in your inbox or the app for details.)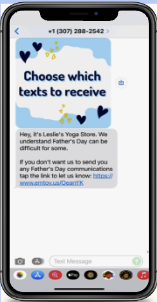 Increase Conversions with a Father's Day Shopping Quiz
Everyone loves a quick quiz: quizzes help us learn about ourselves, and brand quizzes increase the sense of reciprocity your shoppers feel towards you — an important psychological stimulus that can make them more likely to purchase. Here are three easy ideas for interactive quizzes. 
Size/Fit Quiz
Finding the right size for fathers and grandpas can sometimes be tricky. To help make the experience easier for your shoppers, guide new subscribers through a series of questions. This makes a great welcome experience for those new to your SMS list and creates a sense of excitement and urgency about engaging with your products. Emotive users, choose the Size/Fit Guide Experience to get going easily.
Product Recommendations Quiz
Many customers may not know what to purchase for Dad once they land on your store. Make it simple for newly signed-up subscribers to find the right gift by introducing them to a customized selection of your products. By giving shoppers a quick way to see what's popular or recommended, you're reducing decision paralysis and making it easier for them to buy. Emotive users, choose Simple Product Recommendations for this quiz.
Current Subscribers Quiz
You can always learn more about your customers, including those already subscribed to your SMS list. So make sure to share quizzes with current subscribers via SMS. Survey your customers with keywords and use their responses to help close sales and retarget those who haven't ordered.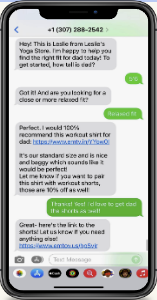 Dad-approved SMS Pro Tips
All right, we've shared a few ideas to get you going for Father's Day. Now here are three pro tips to put into action if you really want to see results.
A/B Test Your Messaging
Every good marketer worth their salt wants to run A/B tests, because that's how you learn what works and what doesn't, so you can optimize for success. What should you be testing in your SMS A/B tests? 
Offers: If you're debating between offering a sitewide sale or a percentage off your markdowns, make a data-informed decision by testing your promotion —even for just a day — before the sale event. 

CTAs: What makes your customers click? Or better yet, what makes them convert? Test different calls to action this week and include the winning CTA in all your messaging. 

Images: Not sure whether you should include a product or a lifestyle shot in your next text? Test different types of images to see which ones your customers engage with the most.
Send on the Weekend
Weekends can be a great time to connect with shoppers, whether they're thinking about things besides work or spending more time on their devices. 
Saturdays: send between 9 AM and 1 PM to grab your customer's attention.

Sundays: send between 4 and 6 PM to cure the Sunday Scaries with non-promotional content.

Extra credit: create an A/B test on Saturday to ensure the winning campaign is sent to the rest of your subscribers on Sunday. 
Follow Up
If you still think one-and-done text blasts are the right way to use SMS, you're missing out. Sending a simple follow-up message to your subscribers can yield an 82% average increase in sales, while top brands see a 9X average increase in revenue. Follow-up texts have a minimal opt-out rate (averaging just 0.03% opt-out rate across all brands), so it's definitely worth the trouble. And if you're an Emotive user, just toggle "follow up" when you send a broadcast and choose the message and time to automatically schedule it. 
Make It Your Best Father's Day Yet
Whether you're helping shoppers find gifts for rad dads, sympathizing with those who'd just rather not, or optimizing your SMS practices over one of the year's biggest holidays, we hope these tips will help you make it the best Father's Day yet. 
Got questions, need templates and MMS images,, or want to get started with Emotive? Log into the app, visit our daily Strategy Sessions, check out our image and template library, or sign up for a demo. We're here for you!




Sources: