Today, 72% of marketers say meeting customer expectations is more complex than it was a year ago. Consumer habits are ever-evolving, and new channels are emerging. As a result, capturing and maintaining consumer attention feels like a daunting task. 
Want to catch the eye of consumers right away? SMS alerts are an effective medium to connect directly with customers. In 2021, Americans exchanged two trillion text messages, and 95% of those texts were opened within the first three minutes. 
With SMS alerts, brands send automated and personalized messages to drive engagement and conversion. Here we'll dig into the benefits of SMS alerts, how to send them, and best practices. 
What are SMS alerts?
SMS alerts—also known as text alerts or SMS notifications—are automated text messages sent from a business to a consumer. When and how you send customers SMS alerts depends on the alert type.
There are two types of SMS alerts:
Promotional: Notify customers about discounts, coupons, sweepstakes, or special events. Brands also use promotional alerts to notify consumers when a product is back in stock or to reduce cart abandonment. 

Transactional: Provide customers with payment confirmation, shipping updates, appointment reminders, or verification codes. Customers' actions usually initiate transactional SMS alerts. 
Benefits of SMS alerts 
Consumers increasingly rely on their mobile devices to engage with brands. In 2020, SMS messaging grew in popularity among customers by 75% year-over-year.
While the pandemic increased consumer use of new channels like SMS, this trend will continue. SMS alerts allow brands to meet the challenges of retail in 2022. 
Meet evolving consumer demands
In a mobile-first world, SMS alerts enable companies to meet consumers on their terms. Last year, 44% of consumers cited convenience as a reason to switch brands. With SMS alerts, brands have a quick and direct line of communication with customers. 
Drive engagement and conversion 
SMS alerts are ideal for urgent notifications that inspire action. Brands can notify shoppers when a product is back in stock or offer a limited-time promotion. Plus, two-way messaging makes it convenient for customers to respond with questions. With the ability to make SMS alerts conversational, brands turn interactions into sales. 
Create a personalized experience
Today, 80% of consumers say the customer experience is as crucial as a company's products. SMS alerts enable brands to anticipate customer needs and take a high-touch approach to customer service.
With segmentation tools, brands deliver personalized messages based on customer personas and purchasing history. Automated flows enable brands to keep in touch with customers without additional work for team members.
If problems do occur, such as shipping delays, brands can update customers in real-time. And with AI-driven conversational responses, companies deliver a more human approach to customer service. 
Through SMS alerting, brands offer a proactive and intimate customer experience. 
How to send SMS alerts 
Choose the right SMS marketing platform.
Selecting an SMS marketing platform that aligns with your business and goals is essential. But navigating SMS marketing companies can be tricky. Platforms offer a variety of automation features and integrations. While some SMS software companies allow for heavy customization, others only offer standard features. Plus, pricing and types of phone numbers offered—like local 10-digit long code (10DLC), short-code, and toll-free—vary. 
Focus on the customer journey 
SMS alerts should not replace other marketing channels such as social media or email. Instead, SMS alerts complement and amplify your existing marketing tools. With only 160 characters, alerts are ideal for short messages that enhance the customer journey. For example, brands prompt customers to return to an abandoned cart, sign-up for a subscription, or confirm an appointment. 
Get permission 
Companies must get permission from customers before sending SMS alerts. According to the Telephone Communications Protection Act (TCPA), businesses must obtain express written consent from customers.
Additionally, brands should be transparent about when and how they will send SMS alerts. Companies should also share potential fees and the terms and conditions when customers subscribe. 
While opt-out instructions are not mandatory with every SMS alert, brands should include them often. By including keywords—like STOP, UNSUBSCRIBE, or CANCEL—customers easily unsubscribe to alerts. It is also best practice to share opt-out instructions with all auto-responses. 
Businesses failing to follow compliance laws could incur financial penalties and erode their customers' trust. Today, 83% of consumers believe businesses must use technology ethically, even if it reduces profits. Compliance with SMS consumer laws and best practices is essential for customer confidence and loyalty. 
Send SMS alerts at the right time
Companies should consider the type of message and demographics of their customers when sending SMS alerts. At Emotive, we've found the optimal times to send SMS alerts are: 
Best days: Thursday and Friday

Best time: 9 AM PST/12 PM EST
For promotional messages, companies should send alerts during regular business hours. Brands should also give customers enough time to digest the information. For example, if a sale starts on Saturday, brands should send an SMS alert at least 48 hours in advance so customers can plan. 
Since customers typically trigger transactional SMS alerts, it's best to send them immediately. If a company waits to send a payment confirmation or shipping update, the confirmation will likely confuse customers. 
While brands should adhere to best practices—such as considering time zones and avoiding holidays—businesses should also experiment with timing. Alerts sent in the afternoon may not be successful for baby brands, but they may be ideal for food or beverage companies.
5 Best practices for SMS alerts
1. Identify yourself 
As soon as a customer opens a text, they should be able to identify the company or brand. Your company name should be at the top of the message to avoid customers thinking it's spam. 
2. Use common language 
It can be difficult to convey a message with only 160 characters. However, companies should avoid shorthand or acronyms. Instead, brands should use common language to encourage accessibility. 
While common text abbreviations are okay—such as "MSG" as a replacement for "message"—businesses should limit their use.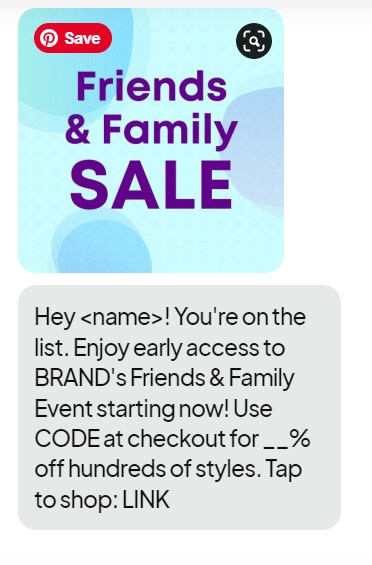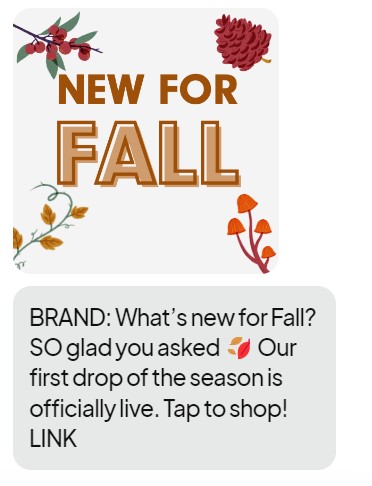 Source: Emotive Broadcast Text Message Library. With the Emotive platform, brands have access to 300+ templates. 
3. Personalize messages
Companies should look for opportunities to personalize all SMS alerts. Segmentation tools enable brands to personalize SMS alerts based on customers' demographic and psychographic data. 
For example, an outdoor retailer can customize SMS alerts based on a customer's interest in a specific activity, such as hiking, climbing, or snowboarding. If a shopper enjoys hiking, they will likely ignore alerts about a weekend sale on climbing gear. With strategic segmentation, brands can filter messages to drive engagement and conversion. 
4. Maintain a consistent brand voice 
While personalization is essential, a company should ensure that all SMS alerts adhere to its brand's tone and voice. Today, consumers interact with a brand across nine different touchpoints before purchasing. Shoppers want consistency, with 76% of consumers expecting consistent interactions with a brand across channels.
5. Include a call to action 
SMS alerts should include meaningful CTAs to drive engagement. But CTAs don't only include discount codes. Brands can also direct customers to gift guides, tutorial videos, customer surveys, or social media channels.
Some examples of CTAs include:
Subscribe today

Use CODE at checkout 

Try for free

Get started

Tap to shop

Check out our gift guide

Tap to learn more

Join us 

Follow us

Tag @ for a chance to be featured

Take our survey to receive an exclusive code
Send effective SMS alerts with Emotive
Emotive is an all-in-one SMS marketing platform built for growth. Using pre-built automation flows and segmentation tools, companies send personalized SMS alerts. Brands continue the conversation with two-way messaging—driving engagement and conversion. 
Plus, every Emotive customer has access to our customer success suite. This includes copywriting, design, and compliance support to ensure every message reaches your customer. And with a comprehensive reporting and analytics dashboard, companies can test timing and measure SMS campaigns. 
Book a demo today to see how you can accelerate revenue with SMS alerts.