Food & Beverage
SMS Built for Food and Beverage
Food and beverage brands use Emotive to drive subscriptions, advertise new SKUs, and get noticed in a crowded market
1 click set up
30 day free trial
5x ROI guarantee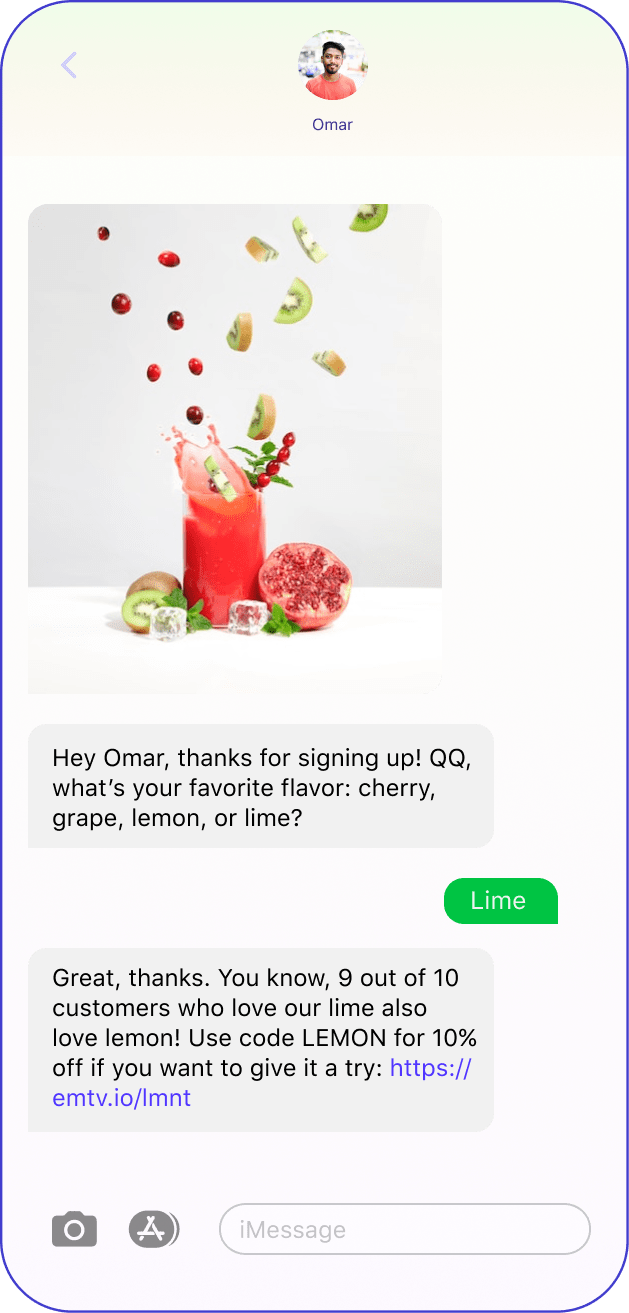 Join the world's top eCommerce brands Build Your Brand
Meet shoppers where they are — on their phones — to build brand awareness and relationships that drive revenue
Hey Omar, thanks for signing up! QQ, what's your favorite flavor: cherry, grape, lemon, or lime?
Great, thanks. You know, 9 out of 10 customers who love our lime also love lemon! Use code LEMON for 10% off if you want to give it a try: https://emtv.io/lmnt
Connect Shoppers with Your Products
Use past purchases and browsing history to build high-converting campaigns that connect shoppers to the items they want
Hi Cristina, great news: our chunky peanut butter is back in stock. Get it now before it sells out again! https://emtv.io/chky
Drive Recurring Revenue
Send texts that turn into transactions: our customer success team helps you create messaging that feels personal, relatable, and actionable
Hey Alex, looks like you're a fan of our PWRenergy bars. Did you know you can save 15% with a monthly subscription? Just click to sign up: https://emtv.io/sbcr
30-60%
Lift in brand revenues across channels after launching SMS
98%
Open rate for SMS messages (compared to 20% industry average for email)
30X
Click-through rate for SMS messages compared to emails
75%
People who say they'd be happy to receive a branded offer via SMS
58%
People who say texting is the ideal way for businesses to reach them
Eat Well Nashville improved customer engagement and drove a 69x ROI with Emotive
$500K+
in sales, first 6 months
69x
ROI
10%
abandoned cart conversion rate
Integrations
We don't want to change the way you work – we just want to improve it with conversations. So we're focused on making it easy to connect Emotive to all of the tech you're already using.
Ecommerce Platforms



Marketing



Customer Service



Many more



Loved and trusted by THOUSANDS
1,000+
Ecommerce brands trust Emotive
27x
ROI on average
5x
ROI Guaranteed on SMS spend
We offer a
5X ROI guarantee
Share your vision with our Strategists. We'll build a plan together and help you get started.