When the iOS14 changes took effect last year, growth got even harder for ecommerce brands. Once a reliable, cost effective channel, Facebook costs have risen, and it's difficult to understand performance. You've been forced to diversify your marketing channels, which means more time spent logging into different dashboards, compiling results, and trying to interpret inconsistent metrics.
That's why Emotive developed a platform to help you outsmart this chaotic system (and the competition). Introducing: Emotive Attribution. Our new all-in-one dashboard with 1st-party attribution helps you save time, make better decisions, and grow faster.
Introducing Emotive Attribution
You know Emotive as the #1 conversational SMS marketing provider. But did you also know that we're quickly expanding to offer even more tools to help your business grow? Emotive Attribution is part of that expansion, and is based on direct feedback from brands about what they needed to thrive in the current marketing environment.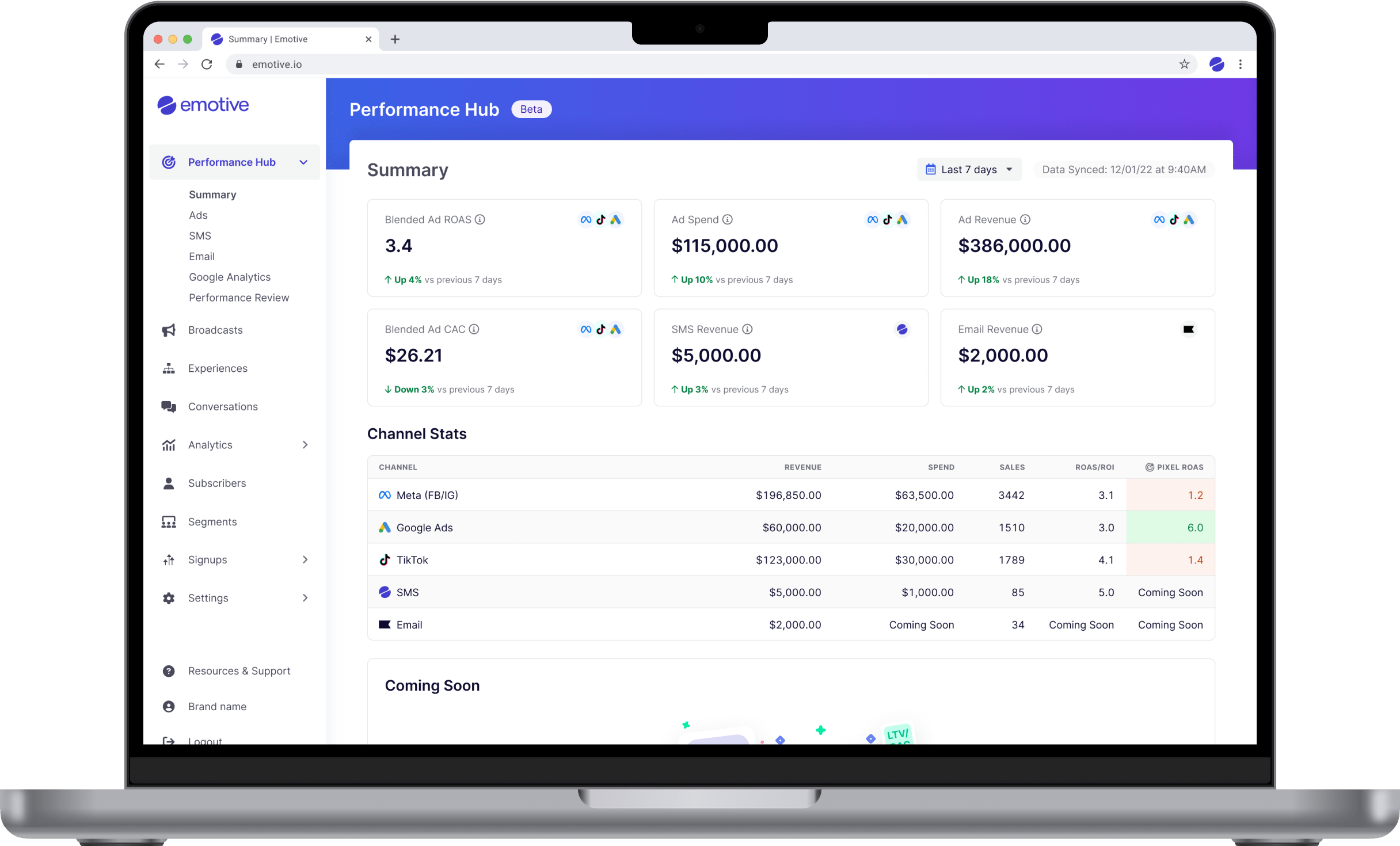 Marketers told us that although SMS drives significant revenue for them, it's sometimes not enough to overcome the changing landscape of ecommerce and marketing. Additionally, our team recognized that after iOS14 came out, brands' needs had changed. Growth became substantially harder, and the lack of consistent analytics was a huge part of that challenge. 
With these challenges in mind, we designed Emotive Attribution to get ecommerce marketers the specific data and insights businesses need to be successful, including:
One Source of Truth. Get the full picture of your marketing performance in one place, saving you hours of work. See analytics from Meta, Google, TikTok, SMS, email, influencer marketing + more coming soon!

Better Attribution. Our 1st-party pixel can tell you which channel actually drove a sale. No more double counting, no more second guessing. Now you can spend with confidence.

Actionable insights. We make it easy to see what's working and what's not to help you make data-driven decisions in real-time.
And these key features are just the beginning. Everything in Emotive Attribution is designed with ecommerce growth in mind. Want a quick snapshot of your best and worst performing ads? We can show you that: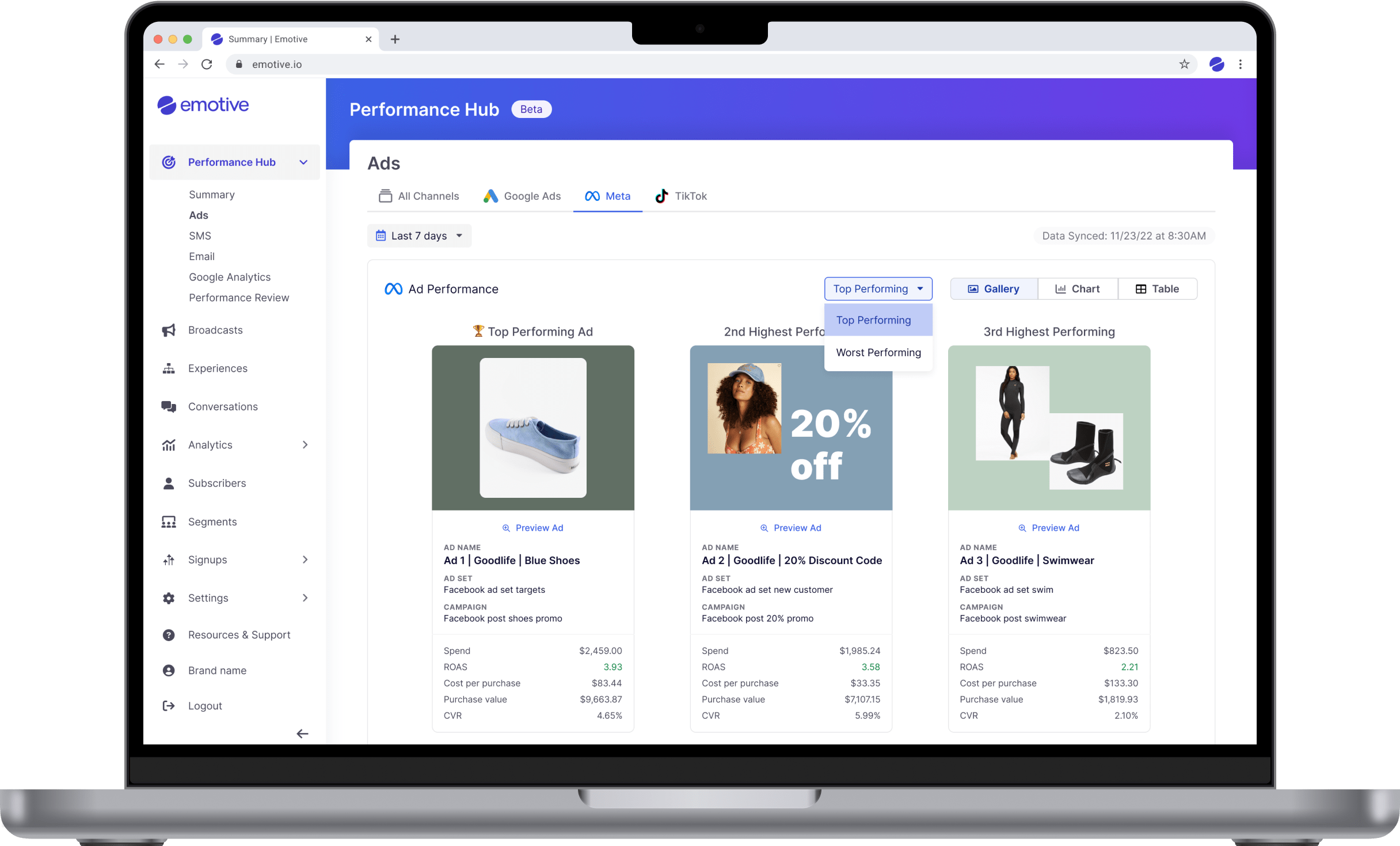 Want to dive deeper? You can also view campaign level data for each channel, including direct results from each advertising platform, and first-party attribution for a more accurate picture: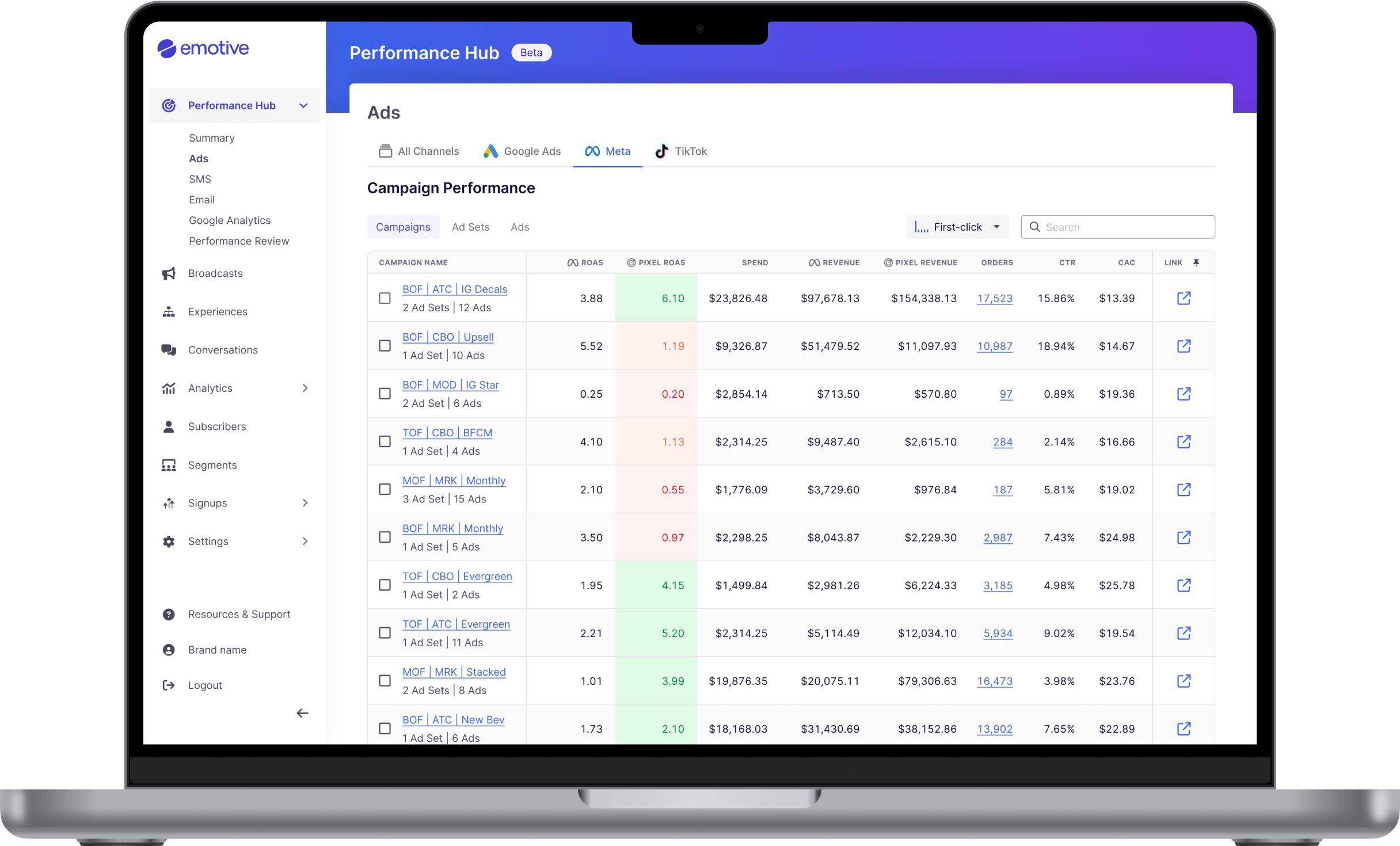 Bottom Line: Emotive Attribution's many features, tools, and insights let you easily - and quickly - optimize your targeting, creative, and overall spend. It's your secret weapon for outsmarting today's challenging marketing landscape (and the competition)!
How to Get Started
Ready to save time and grow faster with the best all-in-on dashboard for ecommerce marketing? Sign up for a quick demo and see for yourself the power of Emotive Attribution!