More people are buying more things from an online business these days, whether it's apparel and household goods or furniture and electronics. Ecommerce sites generated more than $791B last year in the United States, representing over 18 percent of retailers' total sales. And since the beginning of the pandemic, the growth rate of online selling has only accelerated. 
What's more, Americans increasingly are visiting an ecommerce store from their mobile phones. Nearly 6 in 10 consumers said they had used a mobile retail app to shop for a product or service online. And almost half of all ecommerce website sales last year were generated from a mobile device. 
Whether you're an ecommerce business expert or a brick and mortar store owner, providing an online store to your customers is no longer just a nice-to-have: it's table stakes. To successfully sell online you'll want to build an online store experience that's intuitive, appealing, and secure. You'll need ecommerce features that allow you to easily sell online across multiple sales channels, do inventory management, offer promotions and customer support, drive traffic with search engine optimization, integrate with text and email marketing solutions, manage abandoned cart recovery, and track transactions and revenue. 
An ecommerce platform serves as the backbone for your online store. Finding an ecommerce platform that's easy to use — both for you and your shoppers — will be key in helping you grow your traffic and  revenue. And considering the growing share of consumers shopping directly from their phones, you'll want to choose an ecommerce platform that can help you maximize mobile traffic, revenue, and ROI. What's more, identifying an ecommerce platform that easily integrates with mobile-friendly ecommerce software will help you meet customers where they are and draw them into your online store.
What is an ecommerce platform?
An ecommerce platform provides an online store builder that lets any business owner set up an online store and sell directly to consumers. Here are some examples of popular ecommerce platforms: 
Squarespace
BigCommerce
Square
Shopify
Magento
Weebly
OpenCart
WooCommerce
3dcart
Wix 
Big Cartel
Prestashop
Ecwid
Volusion
What are the benefits of investing in an ecommerce platform?
Building your own online store used to require extensive technical knowledge, design skills, and multiple vendors to handle functions like hosting and payment gateways. It was a costly and complex process, especially for small businesses that just wanted a simple solution for their online stores.
Ecommerce platforms are a useful alternative to having to do it all yourself. Ecommerce platforms provide a suite of software and services in a single package that's generally faster, easier-to-use, integrated, more secure, and higher-quality than the existing website or online store most business owners could build by themselves. Here are some of the benefits of choosing an ecommerce platform.
A single platform with room to grow
Ecommerce platforms employ a unified system for point-of-sale, inventory, customer support, analytics, and more, giving business owners a single location for managing both the front-end shopping experience and the back-end processes. Most platforms feature built-in tools for managing day-to-day operations and more.
In addition, as your business grows and you scale up, an ecommerce platform can provide services to help you manage complexity and take your store to the next level. Many ecommerce platforms offer shipping services, language translation, currencies, and marketing tools to help you grow your business.
Consistent user experience
Because ecommerce platforms integrate multiple services, they tend to follow best practices for delivering each of those services. This means you and your shoppers benefit from ecommerce platform industry standards in performance, user interface, payments processing, and store management. This is especially important for growing businesses in a competitive marketplace, where disruptions, downtime, and delays could send your customers elsewhere. 
Efficient order management
Another advantage of operating from an ecommerce platform is an efficient inventory and order management system. Whether you sell physical or digital products, ecommerce platforms can help you streamline your supply chain and fulfill orders through a centralized merchant system.  
What to look for when choosing the best ecommerce platform
Though there are plenty of ecommerce platforms to choose from, choosing the best ecommerce platform for YOU may feel challenging. You should approach this decision with an understanding of your core business needs, your goals for the future, and the amount of time, effort, and money you can invest. 
Most ecommerce platforms will make tradeoffs between affordability and more bells and whistles. For example, if you don't have any physical stores, then it's probably not a high priority to identify a platform that can integrate online and brick-and-mortar stores. Or if you have thousands of items in your inventory, it might be helpful to have tools for organizing, tagging, and featuring them easily at your ecommerce website. 
Knowing what features you can't live without will help you make key tradeoff decisions and get the most value from whichever platform you choose. At a minimum, you'll want to settle on an ecommerce platform that offers premier tools for both building your online store and managing your business. Following are some key features to consider.
Ease-of-use
Ecommerce solutions should prioritize not just the customer experience but the merchant's back-end experience, too. Tasks like managing orders, tracking shipments, maintaining inventory, and issuing invoices shouldn't be time-consuming or require extensive technical know-how. There should be a dashboard and intuitive interface that helps you navigate to and toggle back-and-forth between tasks. You'll want to look at the tools an ecommerce website provides for managing back-end business needs, along with the help content or customer support it provides so you can easily teach yourself the technical knowledge you may need. 
Popular integrations
Another important factor to consider is how your online store interacts with other websites or software. The best ecommerce platform for you is one that isn't just powerful on its own but gets better with the right ecommerce  integrations. For example, Emotive provides integrations with BigCommerce, Magento, Shopify, and WooCommerce, and we're constantly building more . 
As small businesses grow they're more likely to need integrations with apps for detailed accounting, customer support, or international commerce. Since customers tend to browse and shop across multiple websites, your ecommerce platform of choice should also support third-party extensions, themes, social media links, and other cross-platform plug-ins that provide them with a seamless shopping experience. 
Secure, reliable payment options
A smooth and secure checkout process is a critical part of any online sale: you don't want customers to fill their online shopping cart only to learn that their session has timed out or that your online store payment gateway doesn't accept their preferred payment methods. That's why you'll want to ensure that your ecommerce platform offers a protected experience and high uptime, while accommodating the most popular payment gateways. To identify the best platform for you make sure to note the transaction fees, read the reviews of other merchants, and read the fine print. 
Audience-building and marketing tools
How well do you understand the target audience for your ecommerce store? The best ecommerce platforms can help you generate traffic and market your online store, but you'll need to know your business model and how your audience behaves. Choose an ecommerce platform that aligns with the goals in your ecommerce marketing plan and consider how you might use other ecommerce solutions to your advantage. Where does your target audience spend time online? What influences their purchasing decisions? What channels and tactics will best serve your goals? 
Mobile-friendly versions
Today, consumers expect to be able to shop from wherever they are. The best ecommerce platforms provide multi-channel selling support and sometimes even a good-looking mobile app. Make sure the ecommerce platform you choose is compatible with most smartphones and tablets. That way, you can meet the needs of your customers who exclusively shop on their mobile devices, are away from their computers, or are responding to an appealing ad or text message you sent them.
An eye on the future
The most popular ecommerce platforms are continuously improving their ecommerce features and services to meet merchant demands and stay competitive. But when you're comparing ecommerce platforms, it's worthwhile to look at whether those website builders have a history of innovating and delivering business tools that can keep up with the growth of your own online store. Take a look at your online business goals for the next year or two and ask how the ecommerce platforms you're considering can help you achieve them. If you expect that your ecommerce site will need to grow quickly, you need an ecommerce platform that will grow and adapt right along with you. 
What are the 5 best ecommerce platforms?
Let's take a look at five of the best ecommerce platforms and dive into which one might be best for you, depending on what kind of retailer you are and your online business needs.
1. Best ecommerce platform for large volume merchants: BigCommerce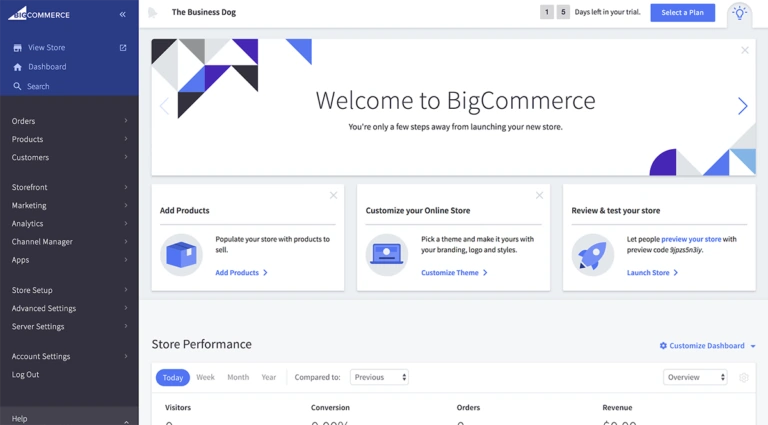 BigCommerce hosts over 90,000 online stores in 65 countries and is known for its inventory optimization and product bandwidth. Its ecommerce software allows users to sell unlimited products with no cap on the number they can distribute. This is one reason that its onboarding includes sales taxes and automated shopping processes. Other, more startup-friendly platforms don't usually require this information at setup. 
BigCommerce also integrates money transfer services via payment gateways like Stripe, Paypal, Venmo, and Amazon pay. Vendors can configure their store to accept offline payments as well, including bank transfers, cash on delivery, and checks.
In addition to streamlined payment processing, BigCommerce enables effortless transitions from other ecommerce platforms like eBay and Amazon. Using the store management tools, users can import off-site listings to BigCommerce and maintain multiple storefronts with ease.
2. Best ecommerce platform for beginners and startups: Shopify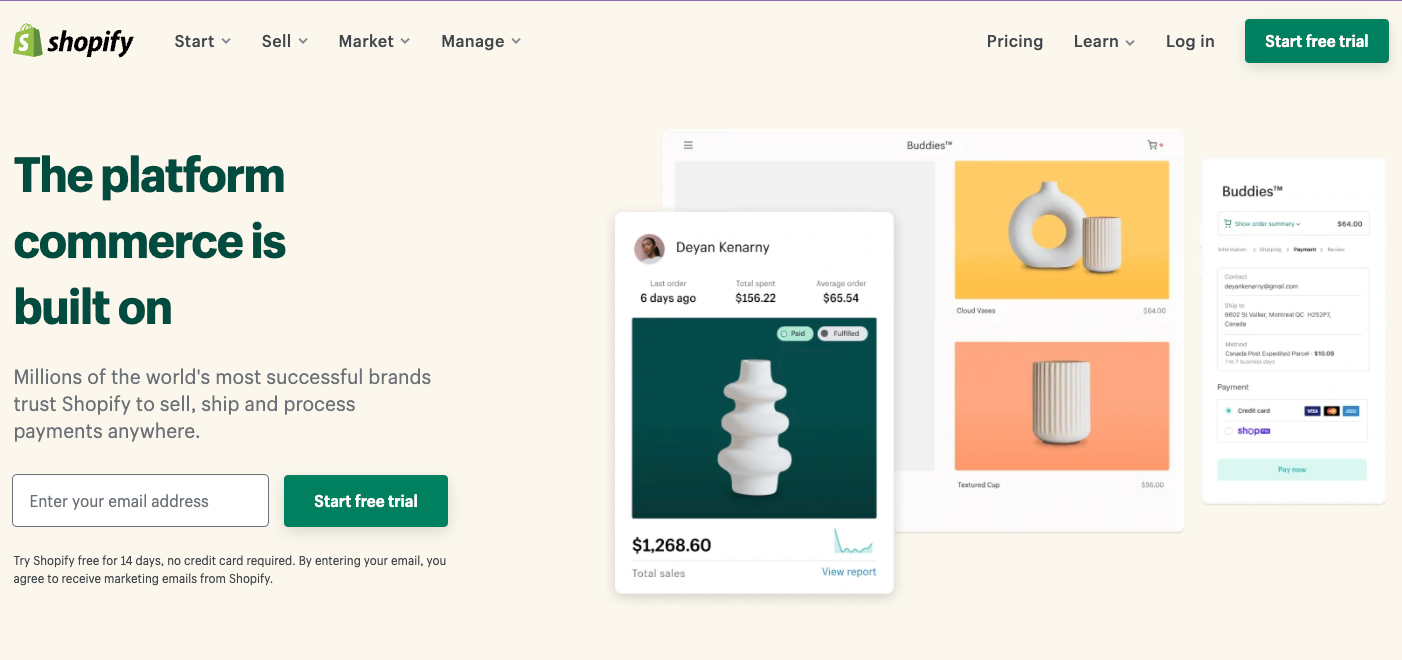 Shopify has become synonymous with the ecommerce space, hosting more than one million businesses around the world. Shopify's attractiveness is in its ease of use. Merchants who choose Shopify can use its online store-builder to start selling online in a matter of minutes. This is a huge perk for small businesses, sole proprietors, and less-savvy users who might not have access to technical knowledge, customer support, or website professionals.
During onboarding, Shopify's setup guides you through all of the key functions the platform provides. It provides extensive customization options, free and paid themes to choose from, and lots of tutorials to guide you. The site's app store connects you to extensions and plug-ins, third-party customization tools, and vetted partners like Emotive.
With the Shopify ecommerce platform, merchants can update their products, use inventory management tools, create staff accounts, integrate different currencies, and add drop-shipping services. Plans from "Lite" to "Plus" accommodate a range of merchant types, from small businesses to large retailers like Allbirds and Kylie Cosmetics. 
3. Best ecommerce platform for WordPress users: WooCommerce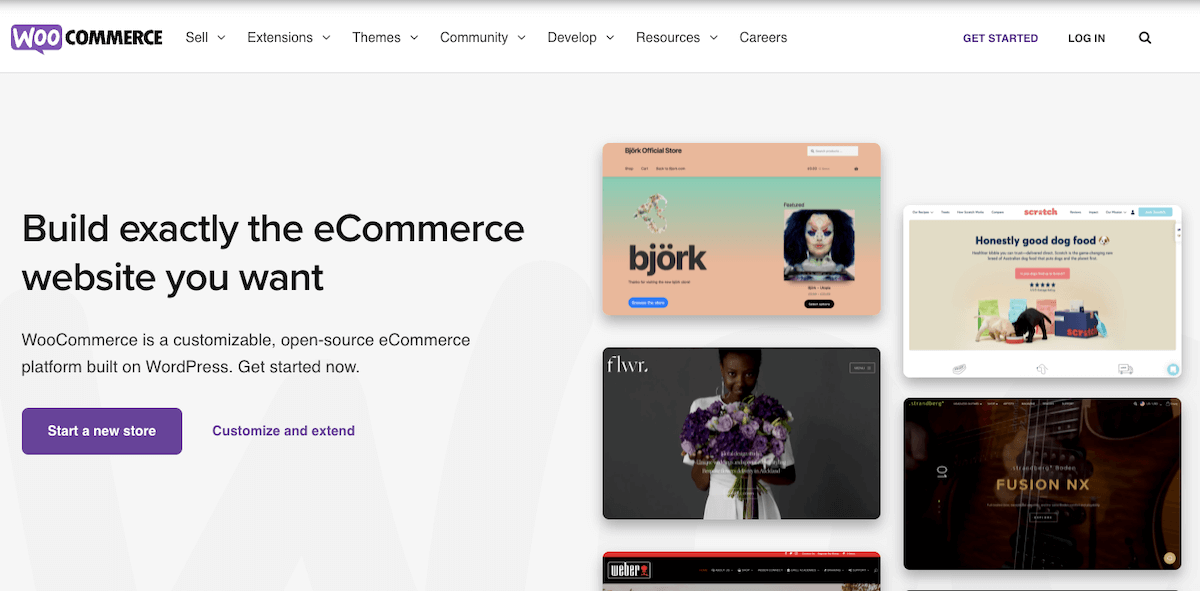 As an ecommerce platform that's also a WordPress plugin (the open source platform used by nearly half a billion websites), WooCommerce has soared in popularity. It currently hosts an estimated four million sites and users consistently laud it for being easy to use. Immediately after signing up you can simply choose WooCommerce from the WordPress plugin options at your existing WordPress site, then configure your online store however you'd like.
Along with various widgets and software capabilities, the WooCommerce backend optimization complements the WordPress content creation tools. Crafting and updating product lists is as simple as creating a post on your blog, with unique parameters for tags, price ranges, and product descriptions. 
You can also generate and manage sales reports, shipping manifestos, integrated payment gateways, and customizable checkout flows. Some of these features (as well as themes) are available as free and paid extensions on WooCommerce's marketplace. 
4. Best ecommerce platform for successful businesses: Magento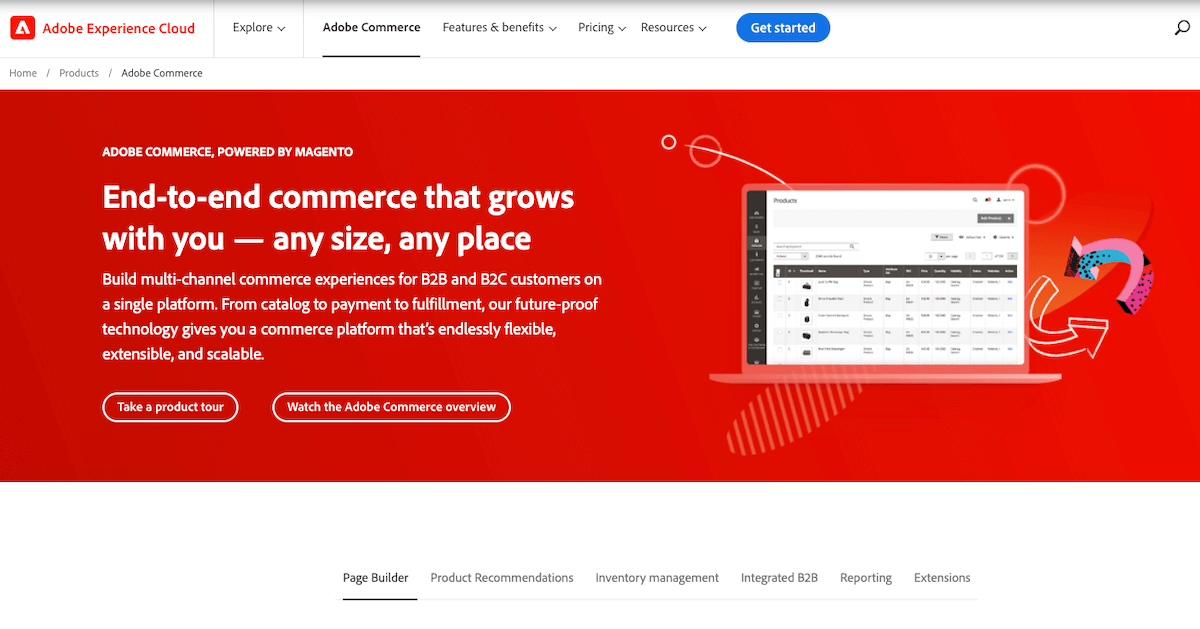 Magento is a product in the Adobe Commerce family and it's estimated to be home to 20 percent of all ecommerce sites. An array of built-in management tools, advanced bells and whistles, and support for high traffic and volume make Magento the go-to ecommerce platform for large and successful retailers. 
High customization is another factor that makes Magento the ecommerce platform of choice for an ecommerce business with web development experience, technical knowledge, or the staff to make use of the extensive features. Magento Connect supports merchants with a large selection of extensions and add-ons, along with a huge ecosystem of professionals and community members. Its flexibility and customizability make it an appealing choice for an online business with multiple brands, for example, but it could be complex and overwhelming for those new to building an ecommerce site. 
Although you can download Magento's ecommerce software for free, large retailers such as Samsung and Nike make use of its enterprise cloud-hosted ecommerce platform services.
5. Best ecommerce platform for drag-and-drop website building: Squarespace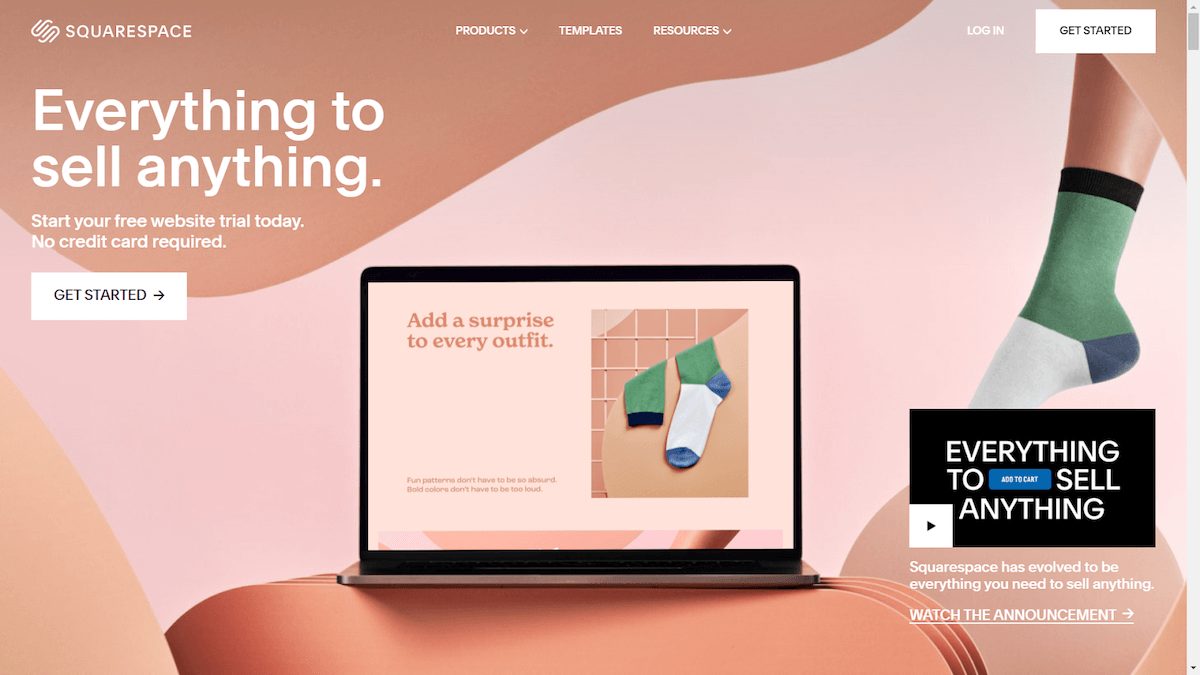 Squarespace launched in 2004 as a drag-and-drop ecommerce website builder. Today it's one of the largest ecommerce platforms, with nearly 4 million subscribers. Squarespace is recognized for its lightweight ecommerce functionality, offering benefits better-suited to small businesses, sole proprietorships, and niche markets with low SKU volumes. Squarespace accommodates small businesses by making it easy to create, host, and maintain a website. 
Squarespace gained popularity in the creative community as a highly visual platform. This makes it a good match for vendors interested in building aesthetically pleasing online stores with on-brand appeal. This ecommerce platform is continuously improving its interface, prioritizing the user experience of both store owners and customers. 
Squarespace offers a streamlined setup process, stylish templates (both free and paid), simple website widgets, diverse customization options, and integrations with other ecommerce platform tools.
The Bottom line
Whether you're a small business and want to start selling and doing business online, or you're searching for the perfect ecommerce platform to help you grow the ecommerce store you already have, the best ecommerce solution can help you do it with quality, speed, and convenience. The best ecommerce platforms will integrate with other ecommerce software to help you easily market your online store across multiple channels, provide advanced shipping solutions, streamline your online shopping cart experience, do successful email marketing, provide customer support, manage multi-channel selling, and, of course, use an SMS ecommerce solution like Emotive to improve your ROI. 
Build the customer base you're dreaming of and start selling to more shoppers. Explore our recommendations and learn how you can use SMS marketing to grow subscribers, traffic, and sales. Sign up for a demo today.